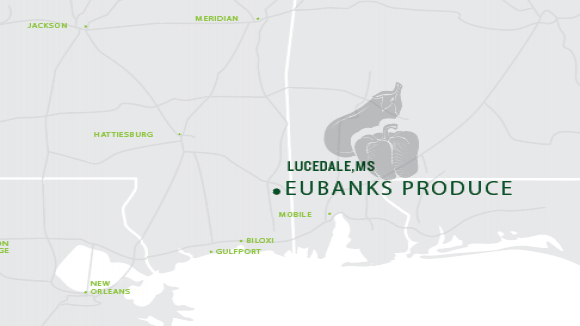 Eubanks Produce, a family-owned and operated farming business, serves the Gulf Coast region with flavorful, hand-picked fruits and vegetables that are grown in the richest, most fertile soil in the world.
Though no one knew it at the time, the first seed for Eubanks Produce was planted two generations ago by Pat Eubanks. Pat raised traditional southern produce such as peas, butterbeans, potatoes, watermelons, and pecans on his small Mississippi farm. An undeniable part of Eubank's secret formula is the rich, fertile Mississippi soil, farming some of the best farmland in the south, producing consistently high-quality results year after year. Realizing each fruit and vegetable needs its own special blend of nutrients, they conduct weekly plant tests to ensure a healthy crop and minimize plant disease.
In the field, Eubanks Produce uses the latest in GPS technology to plant and harvest in the most fuel- and space-efficient manner possible, while also utilizing drip irrigation to maximize watering efficiencies and reduce waste. All vegetables are grown on plastic, which reduces the risk of crop damage in times of freeze or drought–this practice also aids in weed control. All crops are hand-harvested, which eliminates the damage that mechanically harvested vegetables incur. Eubanks believes the aesthetic quality is as important as the inside taste! All vegetables are graded, sized, and cooled by forced air to quickly remove the field heat which in turn considerably extends our products' shelf life.
Eubanks Produce, Inc.
331 Produce Road
Lucedale, MS 39452